Problèmes sociaux
Meet the Syrian woman extinguishing discrimination in Beirut's … – Euronews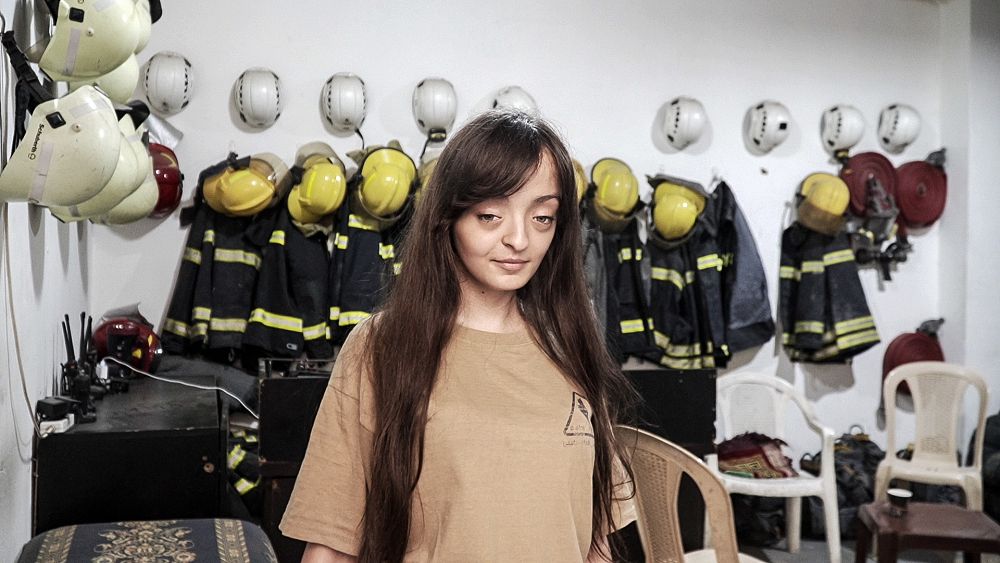 "I want to prove to people that I am like anybody else who can help others. I sacrificed my fear and broke through all the barriers to face society."
SCENES shines a spotlight on youth around the world who are breaking down barriers and creating change. The character-driven short films will inspire and amaze, as these young change-makers tell their remarkable stories.
In the bustling refugee camp of Shatila in Beirut, Lebanon, a young Syrian woman defies the limitations imposed upon her by society. Despite facing discrimination and bullying due to her disabilities, which include hearing problems and distinctive facial features, she radiates happiness and kindness.
Fueled by a desire to overcome adversity, 22-year-old Haya Al-Eissa found purpose and belonging in serving her community. She embarked on a life-altering journey and became a volunteer in the Palestinian Civil Defence.​
"The civil defence opened registration for volunteering for both males and females. So, I decided to apply. They accepted me right away," says Haya, determined to make a new change in her life.
Free from fear
Originally from Syria, her family arrived at the camp before Haya was born. Haya has never received a formal education or had a real job, but she suddenly decided she wanted to change.
"The thing that pushed me to work and serve people within the Civil Defence is society's perception. I don't want it to be a perspective of sympathy or empathy. I am a lot stronger than that. I want to prove to people that I am like anybody else who can help others," says a defiant Haya.
She rose above the prejudices inflicted upon her, finding solace and purpose as a volunteer in the Palestinian Civil Defence. She discovered her own inner strength along the way.
"I want to prove to people that I am like anybody else who can help others. I sacrificed my fear and broke through all the barriers to face society," says Haya.
Recognised Bravery
Within the Palestinian Civil Defence, Haya found a supportive network of colleagues who recognised and commended her courage. They stood by her side, constantly supporting and admiring her remarkable journey.
"If we want to talk to her, sometimes, we use signs. But, there's no difficulty," says her colleague at the Palestinian Civil Defence Volunteer, Donia Alsaied.
"When she began with civil protection, she became very strong, proactive, and confident in her actions," says Khalil Nasser, another volunteer on her team. "Everything seemed easy to her. She takes the initiative. Her courage and impulse at work increased our courage and impulse at work," he adds.
Training for Impact
To fulfil her role effectively, Haya dedicated herself to rigorous training courses. From learning the art of climbing buildings with agility to mastering fire suppression techniques, she acquired the necessary skills to respond swiftly and effectively during emergencies.
"When I joined the civil defence, and because I'm the shortest on the team, I faced difficulty carrying equipment and transferring patients. So, this thing was very hard for me. But with training over time, I overcame this," says Haya.
The most inspiring moment for Haya was when her colleagues told her to wear a firefighter suit and put out a fire. But this time, they covered her face.
"It was the first time; honestly, I was scared," she says. "But at the same time, this gave me the strength to prove to my team and to many people that I'm up for this thing," recalls Haya.
Scar-free care
Beyond firefighting, Haya discovered a profound passion for providing aftercare and support to those in need.
"Once, I was in the centre and had to handle a burn case. As a civil defence volunteer, I must be able to treat it," she says.
The girl was in immense pain, and Haya helped to relieve that and reduce the risk of scaring. "We know burns can leave lasting marks," she says. "This incident made me want to continue working in the Civil Defence," states Haya.
Embracing life's beauty
Haya's experiences have changed her perspective on life, and she says she appreciates and feels God's blessings. Her message to people suffering from bullying, hearing or speech problems is: "Ignore people's words. On the contrary, life is very beautiful. You can volunteer, work, and restart your life from the beginning. The most important thing is to have self-confidence, and what people say, put it aside."
Haya Al-Eissa only knows life in the Shatila refugee camp. Her story is a testament to the indomitable human spirit. Her journey serves as a reminder of the transformative power of resilience, compassion, and the pursuit of personal growth.