Sciences
Milestone for BYD as new energy vehicle production hits 5m – China Daily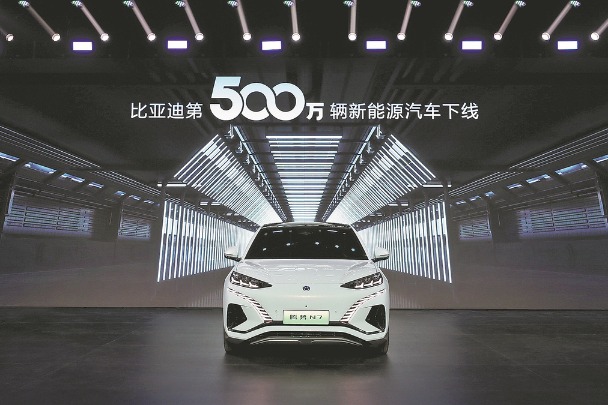 The 5 millionth NEV — a Denza N7 SUV — rolled off the production line of Chinese new energy vehicle maker BYD on Wednesday in Shenzhen, Guangdong province, making it the first automaker to reach the milestone worldwide.
BYD Chairman Wang Chuanfu said it is not just a milestone for BYD, but a testament to the positive and upward development of Chinese brands, who have mastered core technologies and will have significant potential in the transformation of NEVs.
Currently, China leads the world in NEV sales. More than 60 percent of NEVs globally are produced and sold in China. Chinese NEV patents account for 70 percent of the global total and China supplies more than 63 percent of the world"s electric vehicle batteries.
By 2025, NEVs are estimated to account for 60 percent of total vehicle sales in China, and the popularity of such vehicles may allow Chinese marques to seize a domestic market share of 70 percent by the same year, up from 50 percent in 2022, Wang said.
As one of the earliest movers of NEVs, BYD has focused on the sector for two decades and finally saw the rapid development of the industry.
Its first NEV model was unveiled in 2008 and it took BYD 13 years to produce a million NEVs. It then took 18 months for its cumulative sales to reach three million and another nine months for the figure to hit the 5 million milestone, according to BYD.
Since March 2022, BYD stopped production of pure internal combustion engine models. Its NEV sales reached 1.86 million units that year, ranking first among global automakers.
The momentum continued in 2023. Its sales totaled 1.52 million units from January to July, soaring 88.81 percent year-on-year. Among them, some 92,400 units were delivered overseas, surpassing total overseas sales for the whole of 2022.
The company has expanded its global presence since 2010. Its electric public transport solutions are now operating in over 400 cities across more than 70 countries.
Its passenger NEVs have also made a mark in more than 54 countries with the Atto 3, one of its well-known SUVs, leading NEV sales in Thailand, Israel and Singapore for several months.
In a significant move in July, BYD announced plans for three new factories in Brazil, reinforcing its role as a driving force in the industry.
Such accomplishments are mainly attributed to BYD's commitment to technological innovation and substantial investments in research and development, according to Wang.
Starting from 2002, BYD invested heavily in power battery technology and began hybrid technology R&D in 2003, with accumulating investments of around 100 billion yuan ($13.88 billion). Even in 2019 when its net profit was only 1.6 billion yuan, BYD invested 8.4 billion yuan toward technology R&D, Wang said.
As of now, BYD has 11 research institutes with more than 90,000 R&D professionals. The company submits 19 patent applications and is granted 15 patent authorizations on average per working day. Its key innovations include the blade battery and DM-i super hybrid system.